HKCC and SPEED Athletes Honoured with Numerous Awards
28 Apr 2023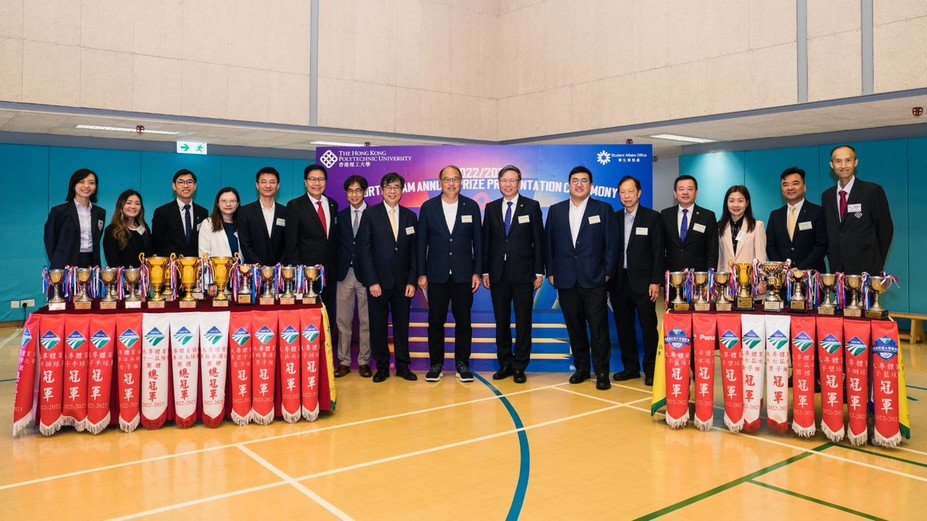 The 2022/23 Inter-Collegiate Competitions came to an end in April 2023, with the PolyU Sports Team winning the Yearly Men's and Yearly Women's Overall Championship for the fifth time in a row. PolyU HKCC and PolyU SPEED athletes also shone in different events.

The PolyU Sports Team achieved another sweeping victory this year, snatching the grand slam and bringing home 16 champions, ten first runner-up and three second runner-up places in 33 sports events. They competed fiercely with student athletes from 13 other local tertiary institutions in a wide range of sports competitions organised by The University Sports Federation of Hong Kong, China (USFHK). In the basketball, squash, volleyball, woodball and swimming gala competitions, PolyU won both the men's and women's championships.

Chan Yee-shun from PolyU HKCC's Associate in Applied Social Sciences (Social Policy and Administration) and Wong Po-yui Kirstie from Associate in Business (Hospitality Management) were named USFHK "Most Valuable Player" (MVP) with their tremendous performance in men's table tennis and women's squash tournament respectively. Meanwhile, Lau Chun-hei studying Associate in Business (Accounting) and Cheng Yi-ling studying Higher Diploma in Social Work were honoured as PolyU's MVP owing to their great achievements in men's badminton and women's rugby separately. Besides, Pang Tsz-kwan from PolyU SPEED's BA (Hons) in Business (Health Services Management) also performed well in a woodball competition.

Credit also went to the other 13 students from PolyU HKCC and PolyU SPEED who performed well to achieve marvelous results in this year's Inter-Collegiate Competitions. They have received different scholarships, including the King's Flair Scholarship and Shun Hing Education and Charity Foundation Sports Scholarship.

The awards and scholarships were presented to the awardees at the PolyU Sports Team Annual Prize Presentation Ceremony held on 25 April 2023.